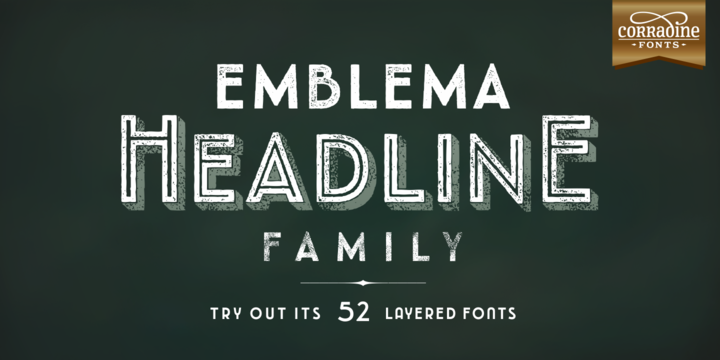 Based in Corradine Fonts font Emblema 65, Emblema Headline was thinked to be a powerful tool for modern designers who need a vintage Art Deco style font with personality and high quality.
The Emblema Headline family have four layers each one with three or four different looks for a total of thirteen different variations. Non-OT-users can select a font between these thirteen variations also with an specific flavor: Basic, Deco, Swash or Extraswash. Explore the great possibilities of Emblema Headline in your next project.
Source:

http://www.myfonts.com/fonts/corradine/emblema-headline/
Emblema Headline1 Basic

Emblema Headline2 Basic

Emblema Headline3 Basic

Emblema Headline4 Basic

Emblema Fill1 Basic

Emblema Fill2 Basic

Emblema Fill3 Basic

Emblema Inline1 Basic

Emblema Inline2 Basic

Emblema Inline3 Basic

Emblema Shadow1 Basic

Emblema Shadow2 Basic

Emblema Shadow3 Basic

Emblema Headline1 Deco

Emblema Headline2 Deco

Emblema Headline3 Deco

Emblema Headline4 Deco

Emblema Fill1 Deco

Emblema Fill2 Deco

Emblema Fill3 Deco

————————-
Subscribe & Stay Update
Subscribe to our mailing list and get interesting stuff and updates to your email inbox.
Thank you for subscribing.
Something went wrong.